The Artist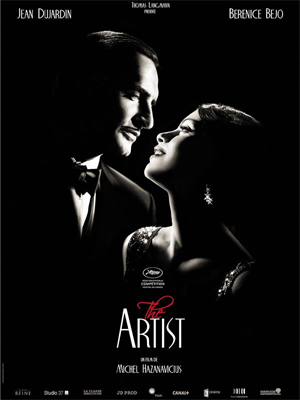 I have to admit that quite a few people may not like The Artist (2011), and that's really too bad.
This is a movie that has a number of issues that conspire to keep it out of the year's "most popular" lists.  It's first "problem" is that it is black and white.  Who wants to see a black and white movie these days?  It just feels so…old!  The next issue, no one in the States knows the lead actor or actress. Sure, there are some recognizable faces in the cast, but where is the star power?  But, perhaps its biggest issue is this: it is a silent film. Say what!? That's right, a silent movie! Most movie-goers will be shrugging at the concept and instead plunking down their cash (more likely, their credit card) to see a big time action movie, with big time stars, than to see this film. It almost seems like a tragedy to me because I loved this movie. So much so that I thought I would break my self-imposed embargo on writing film reviews to come up with some words to describe just how much it impressed me.
I really did love everything about this film.  So many times I see movies and it's fairly easy to nit-pick about things that I think should be changed or improved somehow, less of _this_ and more of _that_, a better way to tell the story, a better choice of actors.  Although it usually doesn't prevent me from enjoying movies, it is a fun exercise to dream up ways to tweak things, even in great movies, just to make it better. With The Artist, I wouldn't change a thing.
The film is not a parody, and neither is it an insolent exercise in snobbish self-importance.  It is a loving homage to the history of cinema told in the wrapper of a charming story that stands on it's own beyond it's tribute.  The arc of the story is familiar, as is the story's setting of a silent film star (played by Jean Dujardin) at his peak of popularity in 1927, but perched on the verge of irrelevance in the emerging era of "talkies". The way the director (Michel Hazanavicius) shares this familiar story, however, feels fresh and original.  He deftly uses the quintessential old-school Hollywood style, shots and techniques as tools to tell the story and not as a gimmick for laughs.  At the same time, this isn't a film that takes itself too seriously…it is presented with a wink to the audience as if to say "Yeah I know! Isn't this fun?".
The Artist IS fun.  It is a lighthearted comedy that occasionally pricks your heart with a sharp pin. There are a great many laughs, but it is one of those stories where you find yourself a bit surprised at how much you connected…you really feel for the characters. Everything about this film makes you feel like you are watching a film made in the glory days of early cinema.  Even the sparse dialogue cards in the film fit right in with the overall mood, although most of the time, the cards are only required to drive home a specific point.  From start to finish this movie entertains smartly, and never treats the audience as if they need their hand held or the actions explained.  The filmmakers understand very well how the images on the screen communicate to the audience.
With an incredible eye for the beauty of black and white, the scenes are staged in a way that can only be described as art. A few scenes really stand out for their beauty, but at almost any moment you could stop the film and it would be a frame-able photo or poster. The rest of the cast are perfectly chosen (including: Bérénice Bejo, John Goodman, James Cromwell and Penelope Ann Miller) and I would have a difficult time imagining others in their roles. Even the music throughout the film is used in a way that compliments the film rather than telling the audience what to feel, by itself a rare accomplishment these days. It is not as easy as it sounds to have all these elements work together to create a mood or a moment in a film, yet throughout,  The Artist makes it seem like the work was effortless.
It is fairly certain that if you are not already interested in seeing this film, my words will do no more than vanish into the morass of critique and commentary that plagues the Internet and numbs brains worldwide.
And that's OK.
In a way this is just a very wordy "Like" button to acknowledge the creativity of a great film, and a simple wish that it gets the armloads of Oscar nominations and other accolades that it deserves.